BO & TEDDY LITTER
Born on 2nd December 2014
FLATCOATED RETRIEVER
4 LIVERS & 4 BLACK 
3 liver boys , 1 liver girl  | 2 black boys , 2 black girls 
SIRE
C.I.E., MultiCh.Whizzbang's Highway to Hell
Aka Teddy
Date Of Birth: 30.06.2007
Breeder : Dorte Jensen – Kennel Whizzbang , Denmark
Owner: Lenka Smutnà – Kennel Black Brianta, Czech Republic
Parents:
Sire: Gbshch., Su(U)Ch., Nuch., Nordv-03, Finv-03, Nordv-04, Cruft's Winner Bob 2006 Almanza I Hate Mondays
Dam: Ww09 Skch Dkch Such Nch Nordch Intch Nordv-04 Kbhv08 Almanza Sweet Georgia Brown
Bbee–Black Carrying Brown, Doesn't Carry Yellow!
Hd A/A,Ed 0/0,Pl 0/0,
Eyes Clear (2009, 2010, 2011, 2013), Gonio–Free
Working Results : Working Class Certificate 
Ovvr Szvp 1st Prize, Used In Practical Hunting 
More Ut Teddy Here
DAM
SEVCH, ITJCh, CYJch ALMANZA BOHEMIAN CHIC
aka Boheme
Date Of Birth: 08-10-2011
Breeder: Ragnhild Ulin, Sussane Karlström – Almanza Kennel – Sweden
Parents:
Sire: Nouch Klokkeråsen's Cool Design
Dam: Sevch Almanza Chic N' Chocoholic
Bbee – Liver Talent Only
Hd: A/A Ed: 0/0
Eyes: Pra, Rd-, Hc-, And Gonio-Free (06.2014)
Teeth: Scissor Bite
Working Results : Working Class Certificate 
8th Ranking Wt Beginners Class At
Retrievers Club Italiano "Wt Championship 2014"
More about Boheme here
Just the name Teddy gives you an idea of what kind of nature this beautiful Flatcoated has , I was thrilled of the idea of using him and when I contacted Lenka and she was happy to give me Teddy for my Boheme I was over the moon with joy. Teddy represents for me the essence of Beauty and kindness a male dog must have, I was impressed by his gentle manners and sweet expression and abundance of black silky coat, I was told he is a very steady hunter and loves to retrieve game, he has no problems with other male dogs and is gentle with puppies.
And I can tell for sure he was a very sweet husband for my Boehme's "first time ".
Very well balanced both physically and mentally two essential ingredients for my breeding, I strongly believe in this combination, just looking at the pedigree of the puppies there is great potential and a very strong and famous gene heritage coming both from black and liver Flatcoates.
Boheme will have her very first litter here in Italy, the puppies will be black and liver! I am looking forward to this combination, natural working abilities is my focus …the pups will, as my last litter, be stimulated to use their brains and will receive various environmental stimuli, using their little brains through fun and play on different grounds and all weather conditions is my way of setting in useful hunting information for their future. In fact this litter will be staying a little longer with me.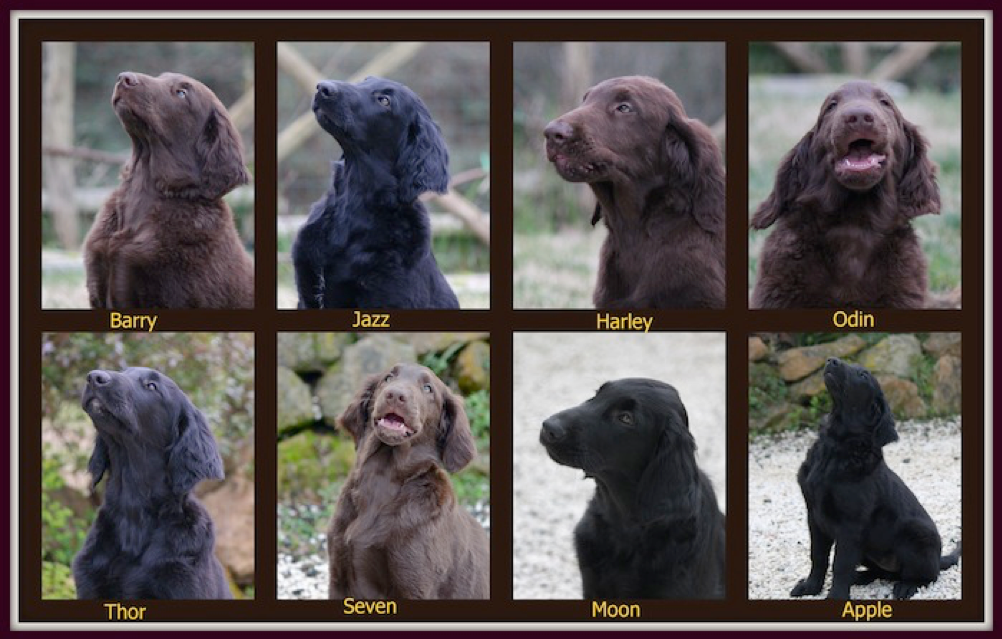 BOYS
Bohemianchic Shiraz aka Shanti – at Bohemianchic Kennel
Pinotage two Oceans aka Robin – lives in Sweden
Zinfandel of Napa Valley aka Sirio – lives in Italy
Merlot du Pomerol aka Delfhi – lives in Italy
GIRLS
Malbec of Almanza aka Bella- lives in Japan
Chablis for Nerelius aka Roma – at Nerelius Kennel , Sweden
My Puppies Are: 
* At Least 10 Weeks Old At The Moment Of Handover To The New Family
* Well Socialized With Children, Other Dogs, Sounds And Brought Up In My House And Used To The Graden
* Veterinary Checked
* Vaccinated
* Microchipped
* 3 Times Treated Against Worms
* Swedish Pedigree Skk Or Export Pedigree
* Possibility To Organize Transfer Worldwide
* Passport
* With Copies Of Certificates Of Parents
* Parents Are Free From Hip And Elbow Dysplasia And Free From Hereditary Eye Diseases
I Am Happy To Help And To Give Support Of Any Kind To New Owners, And Truly Hope To Keep Contact With All Of You.

FCI and SKK ( Svenska Kennelklubben, Swedish Kennel Club) approved kennel nr. 20160114
english, german, italian, swedish and french spoken
Claudia Froreich
 Karlstad , Sweden
mobile +46 70 3624644