My name is Claudia Froreich and I am half German half Swedish and live in Sweden.
Dogs have always been part of my life as family members; I even learned to walk holding on to a Golden Retriever called Bella.
In 1995 I moved out of my parents home and got my own little apartment, besides getting furniture and organizing my new life I was on the phone looking for a Golden Retriever puppy boy, in 1996 I finally find the breeder I like and get my first Golden… My very own first Dog! His name was "Lord Oliver dell'Antica Casa" aka Oliver, a wonderful puppy with great temperament and happy to start a life with me. The first thing I looked for when he was 4 months was a dog school with puppy classes to start training some basic obedience and maybe later some Agility, it was those years when Agility started as a big hit in Italy. So I enquire and get to one of the most famous Dog Training school in Rome (Indiana Kayowa Dog Training School). I was immediately happy with the staff so we started off with our basic obedience lessons.
Shortly after only 3 months I asked if I could learn the job of a dog trainer, back then a dog trainer wasn't a proper job nor was there any qualifications as such or courses and diplomas. I was accepted as a kennel girl and could assist classes, my job was to keep the training fields tidy and lawn cut and reception neat, to entertain new comers and so forth at that same time I was stealing the know how from the dog trainers that were teaching out in the paddocks. I sneaked in to stand beside trainers to see and hear what he/she was suggesting and saw the progress dog/owner made, very fascinating!
Got my first Agility trophies and decided I was ready to move up.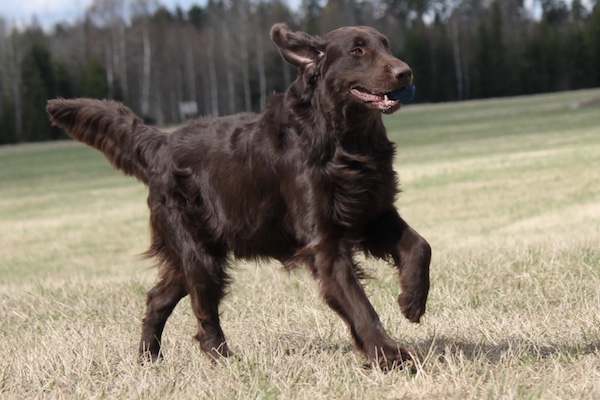 Since the owner of the school was also involved in training dogs for movies and commercials, I had gotten to learn that too, and my Oliver was already in a commercial for Polo Volkswagen at the age of 9 months.
After 1 year, I got to have my own little class of beginners and started my dog-training job. At that point, my Oliver was starring more commercials even movies. My interest in Retrievers was increasing and got my first dummie tests and Retriever work with game done.1998 comes my second Golden Retriever, "Princess Ely dell'Antica Casa" aka Ely, I decided it would be fun to start breeding as well as stating to focus more on retriever work than other dog specialities.
1999 came other two Golden beauties in my life"Royal Crest Gold- N Seven Wishes" aka Shaka and "Royal Crest Gold-N Seventh Hope" aka Napa two beautiful show dogs.
By 2000, I was active in show ring, retrieving, obedience classes, and taking actor-dogs on set.
I was training mainly with my friend Minna Sihvonen now " Dakotaspirit " Flatcoated Kennel, and her Flatcoated Retriever" Heilurihännän X'mas Star" aka Kasper.
My interest for that breed started there, with Scandinavian bloodlines. Year 2001 was not a good start I found out my two Golden Retriever bitches I was not able to breed from due to health issues.
Somehow, that news got me badly and day after day, I started pulling away from the dog world and started to spend time with my untrimmed dogs out in the country not pretending anything. 2010 I casually meet a friend of mine, Fiorella Mathis, a breeder of Dalmatians and Red and White Irish Setters "United Spots" kennel at the veterinarian, who was desperate to have one of her bitches mated in Germany, I offered to help and flew with the bitch to Hannover for the mating.
After nearly 10 years of absence from the dog world I got caught up again and by then I had only one of my Golden Retrievers, Napa, left. I stared to help my friend out at her kennel doing whatever was needed. I accompanied her to dog shows and assisted to puppies being born and then handed over to new families.The sour experience from my past was slowly abandoning to the new feeling of wanting to start all over again.
Now there was the choice of breed and I had no doubts, Flatcoated Retriever and Welsh Springer SpanielsEarly 2011 I contact Kennel Almanza in Sweden both Ragnhild Ulin and Sussie Karlstöm were happy to provide my life with a liver bitch.
December 8th 2011 my life has a turn and puppy girl Almanza Bohemian Chic aka Boheme comes like a storm in my life and changes the course of events!
Her carreer is fast and glorious. November 17th 2012 Mr. John Thirlwell breeder of WSS with "Ferndel Kennel" entrusts me puppy girl "Ferndel Fashion News" aka Kay for whom
I had been waiting for a while. This little funny red n' white girl is a new challenge and I am ready to take it up.
So, let the Story of my Life begin from here…….
Claudia

FCI and SKK ( Svenska Kennelklubben, Swedish Kennel Club) approved kennel nr. 20160114
english, german, italian, swedish and french spoken
Claudia Froreich
 Karlstad , Sweden
mobile +46 70 3624644